Rubber Lined Slurry Pump SHR/250ST
Product Detail
Product Tags
Rubber Lined Slurry Pumps Model: SHR/250ST (12/10ST-AHR)
SHR/250ST is equivalent to 12/10ST-AHR, a 10" discharge rubber lined slurry pump, which is widely used for corrosive slurry applications. SHR/250ST is horizontal centrifugal type heavy duty rubber lined slurry pump. Rubber Lined Slurry Pumps are used to handle tailings in various mining sectors. Plus, it can also be used to feed cyclones for sand washing plants, quarries, etc. SHR is high corrosion-resistant pump series for the hydraulic conveyance of liquids-solids of any type. It's wet-end spare parts are made of natural rubber R55, a black soft natural rubber, which has superior erosion resistance to all other materials in fine particle slurry applications. The high erosion resistance of R55 is provided by the combination of its high resilience, high tensile strength and low Shore Hardness.
In fact, this model is a little special, because this pump is installed with metal impeller, although the inner liners are rubber. This way, the actual head of the pump will be higher than that of fully rubber lined.
Rubber Lined Slurry Pumps Applications:
Mine Dewatering; Sand Pumping; Manure Slurry; Oil Sands; Tailings and Aggregate; Coal Production etc.
Material Construction:
| | | |
| --- | --- | --- |
| Part Description | Standard | Alternative |
| Impeller | A05 | Polyurethane, Metal A05 |
| Cover Plate Liner | R55 | Polyurethane |
| Frame Plate Liner | R55 | Polyurethane |
| Throatbush | R55 | Polyurethane |
| Split Outter Casings | Grey Iron | Ductile Iron |
| Shaft | Carbon Steel | SS304, SS316 |
| Shaft Sleeve | SS304 | SS316, Ceramic, Tungstan Carbide |
| Shaft Seal | Expeller Seal | Gland Packing, Mechanical Seal |
| Bearings | ZWZ, HRB | SKF, Timken, NSK etc. |
Construction & Structure: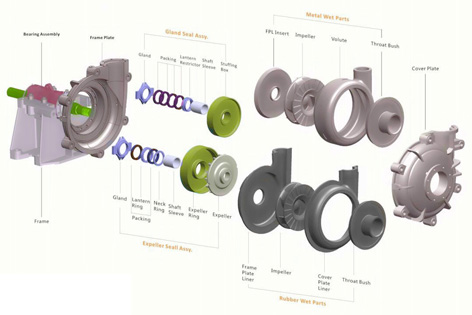 Specifications:
Flowrate: up to 1500m3/hr; Head: upto 50m; Speed: upto 650rpm; Bearing Assembly: SH005M
(Optional Bearing Assembly: SH005M with Max. Motor Power of 560Kw)
Impeller: 5-Vane Closed Type with Vane Diameter: 686mm; Max. Passage Size: 76mm; Max. Efficiency: 80%
Performance Curve: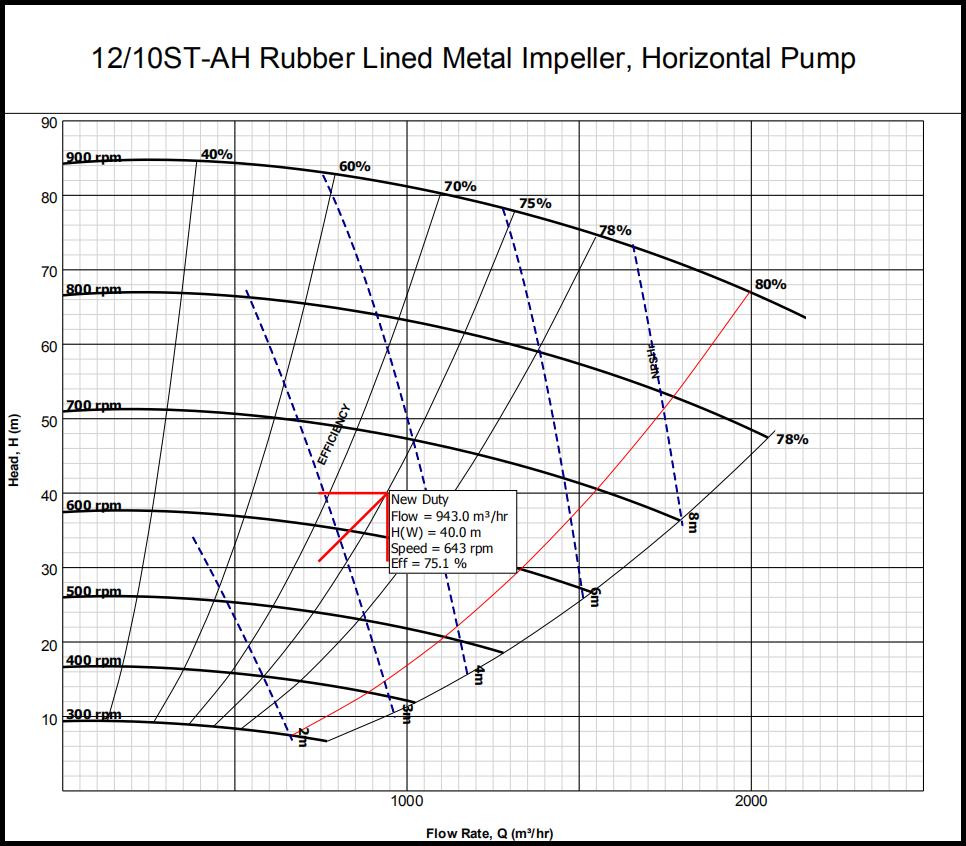 ---
Previous:
Wholesale Price China Sand Mills Grinding - Horizontal Metal Lined Slurry Pump SH/250ST – Minerals
---
Write your message here and send it to us